The studio works directly with the clients or interior designers to produce custom mosaic furniture for interior and exterior spaces. Ready-made furniture mosaics are available for sale from the studio mosaic furniture gallery.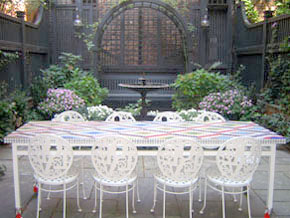 Please visit furniture mosaics page for more information.
Creative one-of-a-kind mosaic artwork designed by studio artists is available for purchase from the studio or could be custom ordered for site specific locations.
Please see our mosaic gallery.  Uniquely designed and perfectly executed, these pieces are stunning in their appearance.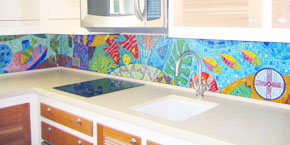 The studio offers custom architectural mosaic work for residential and commercial settings. Please visit custom architectural mosaic work page for more information.