Mosaic Classes Information:
Learn techniques from professional mosaic artists, and create magnificent mosaics for yourself! 
The studio offers mosaic classes for people of all ages, beginners and those with some experience.  During the class time, our instructors will help you create a design for your mosaic and help you figure out the most effective method for realizing it.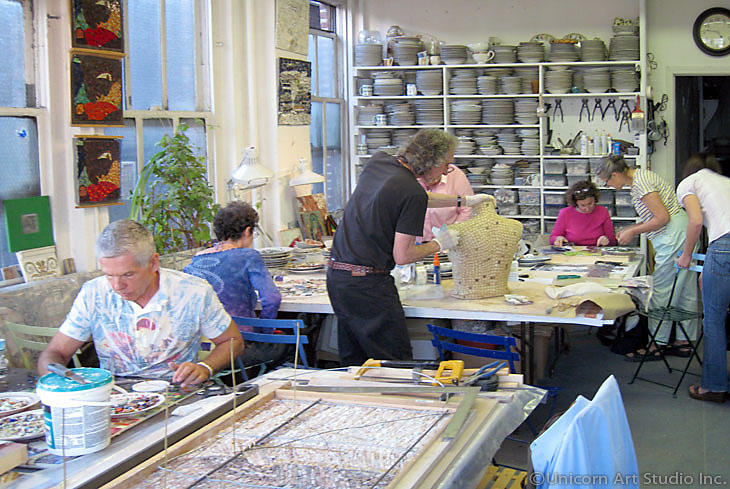 World-Class Instructors: All the on-going workshops are instructed by professional mosaic artists Yakov and Angele Hanansen who have over 40 years of mosaic-making experience. You are welcome to visit the studio, see the artwork, and meet the instructors!

Techniques and styles we teach: Direct and Indirect methods, Roman (stone, pebbles), Byzantine, Florentine, picassiette (broken china), modern. Materials available: stained glass, smalti, stone, pebbles, plates, tiles, and more.
Most of our classes are ongoing, so you can start any day upon availability of space.
Class sessions are taught at these times:
Monday
Tuesday
Wednesday
Thursday
Friday
Saturday
Sunday
-
10:00am-12pm
-
10:00am-12pm

No

Classes

1:00-3:00pm

No

Classes

-
12:00-2:00pm
-
12:00-2:00pm
3:00-5:00pm
-
4:00-6:00pm
-
-
5:00-7:00pm
6:00-8:00pm
6:00-8:00pm
6:00-8:00pm
7:00-9:00pm
Class Rates and Fees:
Beginner Level: 7 Introductory Sessions

:t $490, plus materials. Sessions include an introduction to the history of mosaic art, overview of different materials and techniques, use of mosaic making tools, working on a personal project with instruction of. Beginners project fee: $40 (for projects out of stained glass up to 1 sq ft in size) is charged in addition. Smalti, project fee is $105 per sq ft. The fee for larger projects will be prorated according to the project size and selection of the material.

2 Hour Introduction Only:

$160. This lesson is designed for those who would like a 2-hour Intensive on mosaic materials and techniques.

Intermediate/Advanced Level:

$50 per 2 hr session. These sessions are for those who completed Beginner Level sessions or upon approval of the instructor.
Projects: Choose any size or type of project to make, such as a wall mosaic on a panel, mirror frames, backsplashes, portraits, tables, vases, etc. Make it for yourself or give it as a special gift!
Class Duration: All sessions are 2 hrs long. You can take as many sessions as you wish. Some students come to our studio for years, enjoying inspiring environment and trying out different techniques.  We provide you with all the tools that you need for work in class.  In addition, some materials including stained glass, smalti, ceramic tile, plates, marble, natural stone, are available for purchase for use in class.
No previous mosaic making experience is required in order to take a class and All Levels are welcome!
Registration: Please, call (212)741-9346 or e-mail us at info@unicornartstudio.com to register. You can attend more then one session per week, or can attend a few sessions in a day if you wish. Typically students choose one or two time periods per week, and keep attending those same time periods from week to week.
Mosaic Parties: Come to the studio for 2-4 hours or full day with your friends or kids and make something unique! Work on one project in a group or make individual mosaics. Tools are provided. 6-10 people per party. Call for rates and times.
Attendance: The number of students in each class period is limited. Once signed up students are expected to attend their class during the time they signed up for. Class re-scheduling and cancellation should be made in advance via phone or e-mail.
Gift Certificates for classes are available.
Class Location: Unicorn Art Studio, Inc. is located in New York City, at 150 West 28th Street Suite 1402 (between 6 and 7 Avenues), tel. (212)741-9346.